Manufacturing Process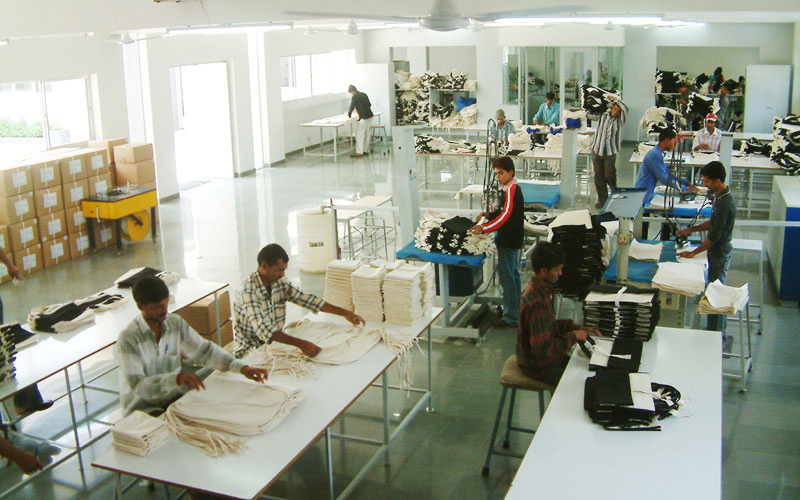 Fabric Selection:
Fabric selection is one of the most crucial steps in designing and manufacturing a bag at jutecottonbag.com There are varieties of fabrics that are being used today. But the most common ones are 100% Cotton fabric, 100% Jute fabric, Canvas Fabric,Juco (75% Jute and 25% cotton)
We make bespoke/ customized bags with various fabrics, you can choose any of the fabrics available, and off course we do promise much more customization options for you, when you are thinking of bags.
Our interest in fabric selection depends only on customers' interests in the appearance and usage characteristics of the fabric your style is made in they also pay close attention to the durability, utility and style values.
Cutting:
Cutting is separating of the fabric in to its components and in a general form it is the production process of separating (sectioning, curving, severing) a spread into different parts that are the precise size and shape of the pattern pieces on a marker
Pattern pieces is cut out of the specified fabric, a process called "cutting." Currently, several cutting techniques exist, ranging from low- to high-tech. Although scissors are used very rarely-only when working with very small batches or sensitive fabrics-cutting continues to be done by hand, particularly in many lower volume establishments. Here, cutters guide electric cutting machines around the perimeter of pattern pieces, cutting through the fabric stack. An electric drill may be used to make pattern notches. The accuracy and efficiency of this system is considerably well established.
Printing:
Screen Printing is the most efficient and low cost method of printing. We use the best quality colour pigments and emulsifiers to print AZO free Prints on the bags
Normally we need following details to print the Bags
Following details are required for screen printing
We need artwork for the print which we normally require in the PNG format
The art work in bold and clear letters
The art work should have strong colours to print depending upon the fabric you would like to get the printing done.
Stitching:
We have experienced craftsmen who have grown by looking and earning from their ancestors and family having developed perfection in their work.
Stitch is very important during manufacturing a jute carry bag, cotton bags, Drawstring Bags, Printed Bags, Tote Bags, Beach Bags, Customized Bags, Grocery Supermarket Juta Bags, Wine and packaging Bags, Burlap Hessian yuta juta bags, Ladies handbags, cotton Drawstring Bags, Canvas Bags etc. Stitching can be defined as, one unit of conformation resulting from one or more strands or loops of thread by intra-looping, inter-looping and interlacing. Stitch quality is measured with stitch size, stitch length, width, depth, tension, sequence, elongation, elasticity, resilience, fabric distortion, yarn severance and abrasive strength.
Normally we use following class of stitching for our Manufacturing processes.
Class-100 (Chain Stitch)
Class-300 (Lock Stitch)
Class-400 (Multi Thread Stitch)
Class-500 (Over Edge Stitch)
Packaging and Inspection:
We at jutecottonbag.com understand that packaging refers to the materials and processes. These are designed to guarantee the integrity of both a product and its brand. Quality export packaging should be compatible with the following standards:
Protection:
Export packaging must be durable, airtight and watertight in order to fully protect the product.
Customized solutions:
Export packaging should be as individual as the product itself and perfectly match the product's consistency, size and dimensions and means of conveyance (loose, break bulk or sea container). Examples of standard export packaging are corrugated cardboard sheets and boxes, bubble-wrap and industrial shrink-wrap, laminated HDPE.
Handling, transport and storage:
Export packaging must consider how the product is handled and stored during transit. So what conditions it will travel in and where it is ultimately headed is important. It should facilitate the ease of handling of the product and cater for multimodal transport (by sea, rail, road and air) as well as variations in static (infrastructure) and climatic (humidity & temperature) conditions.
Cost-effectiveness
Well-designed export packaging is as lightweight and takes up as little space as possible. We make use of the best available raw material. This simultaneously minimize shipping costs, maximize protection and safe handling.